Come On Annie and Ugly Bug.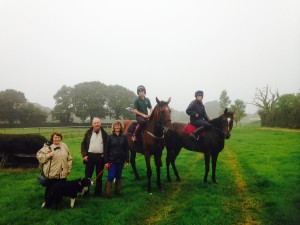 We had a fun morning on the gallops today with Come on Annie and exciting new horse Ugly Bug with their owners David Llewellyn, Toni James and Ann Trotman. Come On Annie was a star last season winning back to back races at Uttoxeter and Taunton. She since went on to tackle fences and pleased us with her attitude. She is just back cantering now and as soon as the ground softens up she will be out and fingers crossed winning us more races.
Ugly Bug is a new horse to us – and as you can see he is a giant standing at over 17 hands. He is currently rated 117 over hurdles so he could go down that route or given his size he could go chasing. He will be schooled shortly and a decision will be made with his owners after that. With him and Come On Annie we hope to be visiting the winners enclosure again for their lovely owners.
After seeing their horses work David, Toni and Ann retired to our owners' room for some tea and chat about the season ahead.