We have been very busy recently at West Buckland , we have some new horses! One of our newest purchases is Luddsdenene who has joined us from the Gordon Elliott yard after a fine second at Stratford. He has settled in well and ran a good race on his debut at Wetherby recently considering the race panned out against him. Luddsdenene schooled over fences (pictured below) yesterday morning and as you can see he jumped superbly under Adam Wedge; the horse is very experienced over both hurdles and fences so there are plenty of options for the horse over the coming weeks and months, I am sure he will continue to run good races. He is for sale to stay in the yard, more information on him can be found on the For Sale page of the website.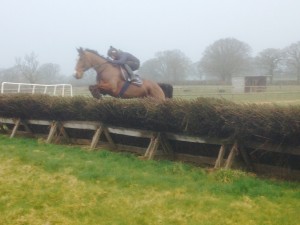 Luddsdenene schooling under Adam Wedge.
Another new face to the yard is Chemistry Master; who has been very kindly sent to us by his owners – Mr Cullum and Mr Watson. Mr and Mrs Cullum (pictured below) recently came to the yard to see Chemistry Master and were very happy with his progress, it was their first visit to West Buckland, we gave them a tour of the yard and discussed plans for the season over a nice cup of tea.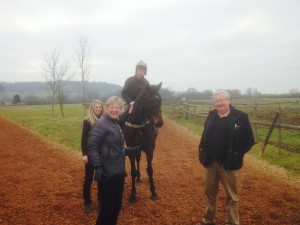 Mr and Mrs Cullum & Chemistry Master.
Chemistry Master has already run over hurdles on numerous occasions through his career so I decided it was time I schooled him over fences. He impressed me with how well he took to jumping the larger obstacles, this certainly opens up some more options for him through the summer.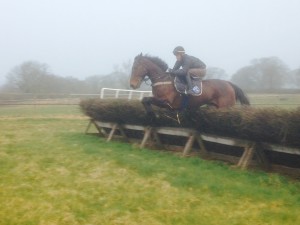 Chemistry Master having his first pop over fences.
Y A Bon is another horse who is new at West Buckland; Tom and I purchased his recently at the sales with a view to campaigning him through the summer months. He has settled in well and is ready to run as soon as the right race materialises. Y A Bon is another horse who is for sale to stay in the yard, again he will provide any owner with great fun through the summer months and more information on his is available on the For Sale section of the website.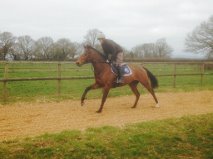 As ever we are always looking to have more horses at West Buckland, this season I have trained 11 winners and a further 20 horses have finished placed which is my best season since taking out a full training licence. Also we have won more than £60,000 worth of prize money for our owners this season which has doubled on the previous season. So if you are interested in having a horse in training please do not hesitate to get in contact with me.E-Mail alex@alexandradunnracing.com or visit my for sale page for information about how to joinin our successful team.
Another new member of our team is not an equine face but a human one, that of Mikey Hamill who has recently joined as the stables conditional. I have known Mikey for several years and rode against him on numerous occasions when I was still riding in Point To Points. Mikey is a hard working person whose 7lb claim will come in more than useful in the coming months through the summer and he is likely to have his first ride for the yard at Newton Abbot later this week on one of the yard favourites Arrayan.