- GREAT WIN FOR PRINCE TOM - NEW CONDITIONAL APPOINTMENT - SPENDING MY SISTERS SAVINGS. 




26/07/14 by Alex Dunn



   What better way to start my new blog than to speak about my recent winner Prince Tom. It was a great day for Mr and Mrs Tinknell who have shown tremendous faith by sending me the horse and it was wonderful to reward them with a win at Newton Abbot. He started at 33-1 but I thought he would run well however I never envisaged him winning. As usual we had a few celebratory drinks and I will upload some pictures of our wonderful day shortly. 


We also ran Bramble Vodka at Southwell recently and she was fourth on her debut for the yard. She is owned by my sister Roz who had saved up enough money to buy a new car; however after hearing that she had a stash of cash, I spent her hard earnt money at Doncaster sales on Bramble Vodka. Thus putting all thoughts of a new car for Roz on the backburner! Luckily for me Bramble Vodka performed with credit, so I was forgiven! She has come out of her race well as has Prince Tom and they will be out again in the next few weeks. 


Other news from here at West Buckland is that we have appointed a new Conditional jockey in David Prichard. He has spent the last few years working for the champion trainer Paul Nicholls which is a great grounding for him and we are delighted that he has joined the team here at West Buckland. His experience and knowledge is already helping the wonderful team here get the best out of all our horses.
The Happy Team after Prince Tom's wonderful win.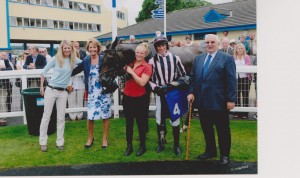 Tom about to take the lead just before the final fence.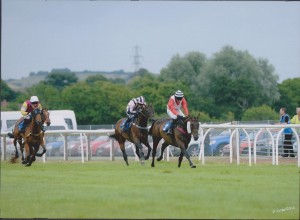 Mrs Tinknell collecting her owner's prize.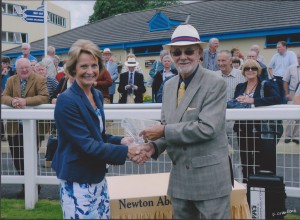 ———————————————————————————————————————————————————————————————————————————————————————-