This page is proudly sponsored by Aardvark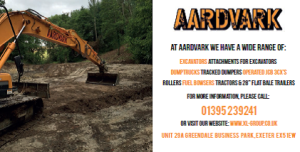 West Buckland Stud is a beautiful and professionally run Horse Racing Stud
West Buckland Stud is gaining an enviable record in racing circles, through its increasingly frequent visits to the Winners Enclosures at many point-to-points, hunter chase and under rules. We are proud to have played a helping hand in the success of many local trainers.
We are also able to boast many international competitors as loyal and regular users – riders at up to 4-Star level, and competing all over the World – especially at Badminton and Burghley, where fitness and stamina is so vital.
West Buckland Stud's Gallops is strictly a one-way track. This is for safety purposes and horses must always be ridden clockwise.
Our facilities include:
•  Gates for your safety and easy access
• West Buckland Stud is monitored by CCTV cameras
• Refreshments Room, with complimentary coffee and biscuits
• Wash-off area with hot and cold showers
• Large hard-standing car park (monitored by CCTV)
• Toilets / phone and list of useful contact numbers (eg. Vets, Farriers etc.)
• Seated garden area
• First Aid for riders
• First Aid for horses
Coffee Room
We have applied for planning permission to build a Coffee room/Owners facility to provide a very sociable seated garden area to enjoy our surroundings. It also provides a wonderful viewing spot, where owners, trainers and family friends can enjoy refreshments and watch the horses train on the gallops.
Wash-off Facilities
Hot and cold showers for hoses in a large light and airy indoor wash-off area. Cool in the summer and warm in the winter, it's great for horses and riders.
Scoping
West Buckland Stud is becoming increasingly popular with veterinary surgeons and hospitals as a site for diagnostic investigations of respiratory ailments.  Dynamic respiratory endoscopy is now recognised as one of the most effective diagnostic tools in the identification of specific upper respiratory disease and the 'Gallops offer the ideal location for reliable investigation by the veterinary clinician.
Racing will appeal to anyone that has a love of horses and a spirit of adventure; and the most satisfying way to take part in the action is to follow the fortunes of your very own racehorse.
Here at the West Buckland Stud, in our stunning Blackdown Hill surroundings, you and your horse will benefit from brand new training facilities as well as a friendly and dedicated team.
If you have always wanted to own a well-bred quality racehorse and be directly involved with a National Hunt yard, then purchasing a share in our club or syndicates is the perfect way to fulfil all your ownership dreams.
Foaling
We take Broodmares for foaling, temporary boarding to walk in to stallions during the season and also have a good number of permanent boarding Mares. Our facilities include; two large foaling barns with CCTV linked to the stud house, six straw turnout barns and small paddocks for Mares and newly-born foals before being turned out together.
We use our own transport to take Mares to other studs.
Isolation Yard
For horses coming in from abroad and for sick horses to protect those already in residence and so stop the spread of disease.
Rubber Lined Boxes
These are available for horses with fractures, post wind-operation cases, colic cases, sick and newly born foals etc and are also used as a working veterinary area for drips and heat lamps.
Restricted Turnout
Post and rail convalescent paddocks. They are ideal for turnout after box confinement, mares with newly born foals and individual horses whilst going through pre-training for short periods to give them confined turn-out allowing restricted grazing.
Horsewalker
A modern five-berth horse walker, with rubber brick paved floors.
Outdoor School
60ft x 25ft outdoor school with sand and fibre surface.
Paddocks
Extensive turnout varying sized paddocks.
Transport
We have our own Horseboxes on site and can collect or return horses at competitive rates.
CCTV Cameras & Walkie Talkie Radios
Latest technology is used to aid security and safety and to monitor mares awaiting foaling and sick horses overnight.
This page is proudly sponsored by Aardvark