WEST BUCKLAND  RACING CLUB
A unique opportunity to get involved in the Alexandra Dunn Racing Stable at a fraction of the cost of owning your own racehorse.
West Buckland Racing Club is an exclusive Racing Club, limited to just 20 genuine racing enthusiasts. Our aim is to give our members the full ownership experience, including owners badges on racedays, regular stable visits, services of a dedicated Racing Club Manager, monthly newsletters & regular e-mail updates on the Racing Club horses, together with a variety of social events at the races and the stables.
There will be three horses in the Racing Club at any time. These will be loaned to the club by Tom Dunn & West Buckland Bloodstock, throughout the season, at no cost to the club. Tom and Racing Club Manager Dave Arthur, will choose the horses that will give the right balance of fun and success for the Racing Club Members. We will look to run these horses regularly across our West Country Courses, Taunton, Exeter, Newton Abbot & Wincanton, to ensure as many local racedays as possible, but they could also run anywhere in the country, as Alex, Tom & Dave look for the best winning opportunities for them.
The cost of joining this exclusive Club is just £50 per month. For this you will be treated like an owner, with Owners Badges available when the Club Horses run, with personal e-mail and telephone contact with the Racing Club Manager. You will have the chance to meet Alex, Tom and our jockey in the parade ring and also the chance to greet our horses as they come back into the winners enclosure. Any prize money earned will belong to West Buckland Bloodstock, who will remain the owners of the Club Horses.
We will arrange regular stable visits where you will get the opportunity to visit the stables and meet your horses in person, have your photo taken with them and enjoy the beautiful surroundings of the glorious Somerset countryside as well as the infamous 'Team Dunn' hospitality.
RACING CLUB MANAGER
The club will be managed by Dave Arthur, Syndicate Manager of Staplegrove Racing, owners of Alex's very exciting young prospect, Teachmetobouggie.
Dave has a wealth of experience, having owned horses for over 30 years and more recently experience of being an owner with some of the best known & most successful Syndicates & Partnerships in the country, including Highclere Thoroughbred Racing, Middleham Park Racing, Supreme Racing & Ontoawinner. He currently has horses in training with Richard Fahey, David O'Meara, Karl Burke, Nicky Henderson & Willie Mullins.
'I am incredibly honoured to have been asked by Alex & Tom to Manage the West Buckland Racing Club. In my years of owning horses, in some of the biggest & most well known stables in the country, I have rarely met a more dedicated and positive couple as Alex & Tom, whose ambition to train winners, is only matched by their desire for their owners to have an unforgettable experience, both at the races and when visiting their horses. I intend to give the Racing Club members a taste of that experience and hopefully they will catch the bug like I did 30 years ago.
Just as importantly, this is a team of owners and staff who know how to have fun and enjoy every single success, whether with their own horse, or any of the others in 'Team Dunn'.
Communication is absolutely the key in any Racehorse Ownership Group and the advantage of our exclusivity, will be the ability to communicate with me personally by phone or e-mail. I will ensure that members will be kept up to date with plans and progress on a very regular basis.
I hope that you choose to join us in this extremely exciting venture and the one thing I can guarantee is that it will be fun all the way'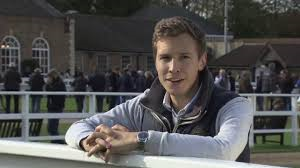 RACING CLUB PATRON?
Racing UK presenter Oli Bell has agreed to join the club, which is a massive coup for us. Oli is steeped in racing being the son of journalist and presenter Rupert and nephew of Newmarket trainer Michael Bell.
Oli has become one of the most well known faces in British Racing and has already experienced the owning bug with the top class chaser ' The Rainbow Hunter' trained by Kim Bailey to run in the last three Grand Nationals.
He is very keen to support Alex & Tom and was delighted to become part of our exciting team
CLUB HORSES
We are delighted to announce that the first horse to join the West Buckland Racing Club will be stable stalwart HELIUM.
He has been an absolute star since joining the yard in 2013, finishing 1st twice, 2nd 3 times and 3rd 5 times in only 17 runs for the team. He will almost certainly ply his trade around the West Country on his favoured soft ground & will be kept to a level where he will always be competitive and give us a good run for our money.
Slidecheck has been in wonderful form this season finishing placed twice already this season. He is a fun consistent horse who has provided great sport for the club.
HOW TO GET INVOLVED
Please contact either Tom Dunn on 07717 291464 or email tom@alexandradunnracing.com or
Dave Arthur on 07967 725295 or email dave@flutter61.co.uk
This page is proudly sponsored by Amicus Law.