Winged Express was having his first run in the colours of J Burley & The Bucklanders and resulted in an eleven length victory with Ian Popham gaining another deserved winner. Returning to hurdles Winged Express loved the extremely testing conditions and stayed on well to score impressively giving me back to back wins in the race as we won it 12 months ago with Worldor. It was a wonderful way to end what has been a very successful year for our team and there is no greater feeling then having a winner at our local track amongst friends and family!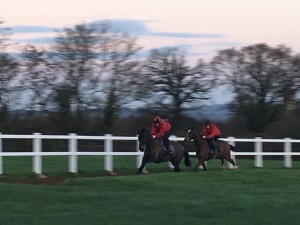 Royal Charm, pictured here, working with Slidecheck, is one of the few horses yet to run this season but he is now ready to run and it it likely we will be going down the Hunter Chase route with him and he will be ridden by Will Gordon who is the yard Amateur Jockey and the experience he has gained riding in Point To Points will only help him.
Tactical Manouevre is a new horse to the yard who has been recently purchased at the sales. He is for sale to stay in the yard. He has been in work at West Buckland for a month or so now. Tactical Manouevre is a very mature young horse who is by a top class sire. There is more information on him, and the other horses For Sale to stay in the yard here.
Looking ahead to 2016 I have declared both Beau Knight and Slidecheck to run at Fakenham tomorrow. Both horses are having their first start for me; the ground is much better over on the East side of the country. I enjoy having runners at Fakenham as the Prize Money is very good and the Clerk Of The Course David Hunter always ensures there is a warm welcome.
Happy New Year!!
Alex.